Peercoin Marketing Fund (closed)
A fund created by the community for the promotion of Peercoin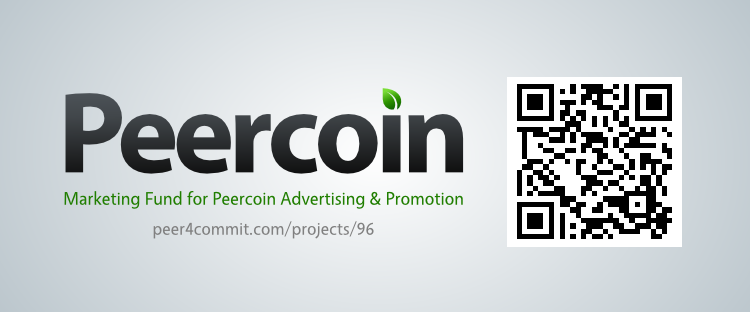 Edit: The Marketing Fund has ceased to exist on 1-Oct-2015. More information can be found in this thread: https://www.peercointalk.org/index.php?topic=4249.msg40846#msg40846
The information below is retained for historical purposes.
Objective of the Marketing Fund
The Marketing Fund is established with funding from the community for the community. The objective is to promote and advertise the Peercoin brand and its usage across the world. The Marketing Fund is not a foundation. It is run by community elected fund keepers who ensure the process to apply for funds and the subsequent voting is executed properly as per the Marketing Fund charter (see link below).
Submissions for the Fund can be done by everyone according to the process as described under Tipping policies below. The Peercoin community members will vote on your proposal after forum discussion about the proposal have taken place.
Please check out discussions or ask questions related to the Marketing Fund or how to apply on peercointalk.org on the Marketing Fund child board. See links below.
<-->
Tipping policies
Submitting a proposal
By submitting a proposal the submitter agrees to the http://www.peercointalk.org/index.php?topic=3038. All proposals need the following details. Fund keepers will not accept proposals without these:
Submissions need to be lodged in the designated http://www.peercointalk.org/index.php?board=66.0 on peercointalk.org. The title of the thread must start with [MF].

Peercointalk.org account and email/contact info of submitter applying for the Fund

Submission date This can the actual date or a date in the future

A short description of the project with your goals very clearly specified (three sentences max.) Please make an outline so it's easy to see what your basic plan is. 4b. Long description as needed You can of course describe your plan in full, link to other information etc.

Specify the target audience Which group are you aiming your project at? Please keep in mind that "everyone" is NOT a valid group to be aiming at.

Budget Be as specific as possible. Provide costs in dollars/pounds/euros/PPC, etc. estimated per day/print run/product, etc. as per your proposal. Budgets with recurring costs should cover for at least 3 months of operation. Vague or incomplete budgets will not be accepted for a vote at discretion of the fund keeper(s).

Specify deadlines No project can be without a specific time limit. We need to know when you plan to either implement it, or when a project is supposed to go live.

Metrics need to be specified How are you going to check how many people you reached? This is needed to be able to see how successful you are in your aims.

Turnaround times Requests will be turned around in 7-10 days for smaller requests. Larger ones (e.g. 250 PPC+) may take up to 14-17 days to allow community to discuss and the voting process to happen. Extensions over 17 days of discussion time can be allowed at discretion of the fund keeper(s) or on request of the community or submitter(s). Reasonable requests will be granted automatically. Extensions will be communicated in the same thread as the submission by the fund keepers. Submissions which exceed the available funds will be put on hold and won't be voted for until adequate funds are available. Edit 4/7/14 Just for clarification, on submission date the intend is that there would be discussion first for at least 4 days and up to 14 days for larger proposals. The submission can be changed during the discussion period. Once the 3 days voting period starts submissions can't be changed any longer.

Payments Payments will be in PPC and to an address provided by the submitter in the proposal. Proof of ownership of that address may be required.
(Last updated by Cybnate on Thu, 01 Oct 2015 08:38:24 +0000)